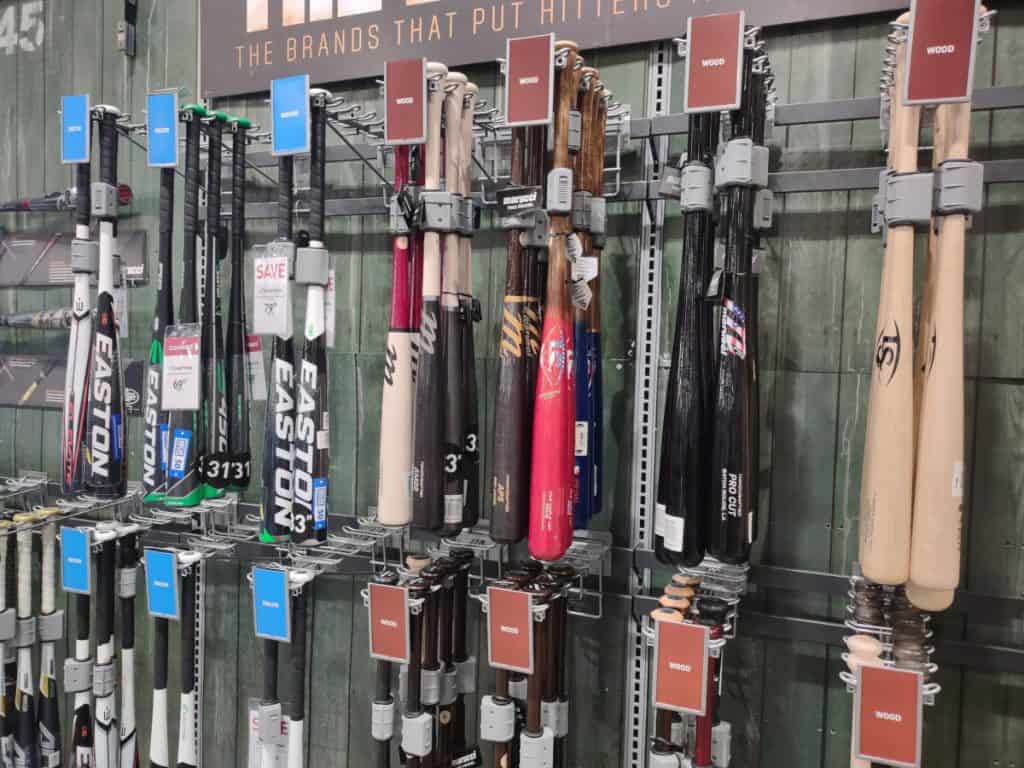 In baseball, hitting is one of the most crucial elements to the game. Players want to find a reliable bat with the most pop that gives them the best chance of getting a hit, but they don't want to spend too much money on a bat. This leads players to wonder about how much a baseball bat costs. While looking for my next bat, I also found myself wondering about the prices of baseball bats so I decided to research bat prices from the most well-known brands.
Baseball bats cost anywhere from $30 to $500, with most bats ranging between $75 to $150. The cost of a wood bat is between $30 to $200 while the cost of an aluminum bat is between $30 to $500.
The price not only varies from the type of material used to make the bat, but bat prices also vary between adult baseball leagues and youth baseball leagues.
How Much a Baseball Bat Costs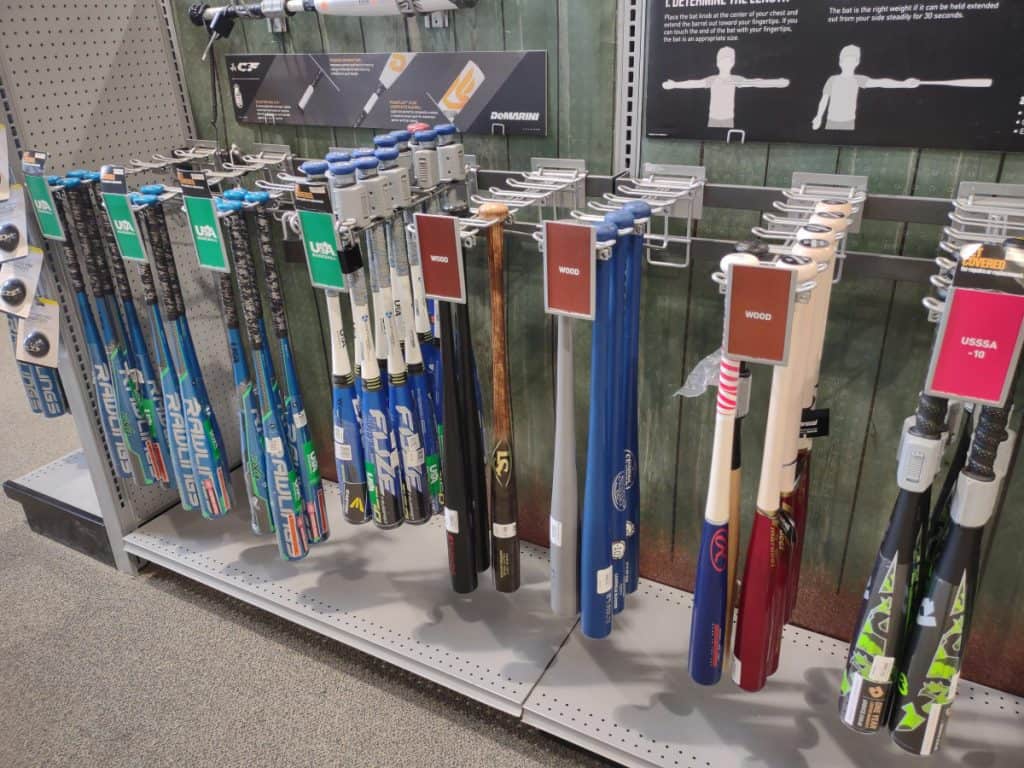 The cost of a baseball bat depends on many factors such as the type of material used, the brand of the bat, and whether the bat is for a youth league or an adult league.
I researched five well-known brands of bats and found their most expensive bat, their least expensive bat, and their medium-priced bat (if they had one). The five brands I learned about were Axe, Easton, DeMarini, Louisville Slugger, and Marucci.
Below are four tables that break down the cost of these bats by their material and the type of baseball league. These tables show the bat's name, the brand of the bat, the price listed on that company's website at the time of this article, and an affiliate link to Amazon if you'd like to do some further price comparison.
Adult Wood Bat Prices
Youth Wood Bat Prices
| | | | |
| --- | --- | --- | --- |
| Bat Name (links to Amazon) | | | |
| | | | |
| | | | |
| | | | |
| | | | |
| | | | |
| | | | |
| | | | |
| Youth Pro Wood Baseball Bat (-6) USA | | | |
| | | | |
Adult Aluminum Bat Prices
Youth Aluminum Bat Prices
| | | |
| --- | --- | --- |
| Bat Name (links to Amazon) | | |
| | | |
| | | |
| | | |
| | | |
| | | |
| | | |
| | | |
| | | |
| | | |
| | | |
| | | |
| 2022 Avenge Pro USSSA (-8) 2-3/4" Baseball | | |
How Much Do Wooden Bats Cost?
The price of wood bats varies on the type of wood used to make the bat. There are typically five main types of wood used when making a baseball bat: ash, bamboo, birch, composite, and maple. Maple and ash bats are the most common types of material used in wood bat leagues.
Wood bats cost between $30 and $300. In general, ash bats are the cheapest type of wood bat while composite bats are the most expensive type of wood bat.
There are many different brands and variations of each of these wood bats so the prices can vary when looking at each type, but if we wanted to rank the average cost of wood bats from the least expensive to the most expensive type, the order would be ash, bamboo, birch, maple, and composite.
Durable Wood Bats are More Expensive
Another contributing factor to the cost of wood bats is how durable the bat is. In general, the more durable the bat, the more expensive the bat.
Ash bats can be bought for as little as $30, but I know from experience that these bats break very easily. Ash bats are great for players who temporarily need a bat. Players may temporarily need a bat if they're playing in a tournament that lasts a few days or if they're waiting for a more durable bat to arrive.
In addition to ash bats, I've also owned maple bats and I've been very pleased with the durability of these maple bats. The photo below is a maple bat from Marucci that I've used in multiple games. I always used this bat in practice and this bat lasted me about 15 or 16 games before I accidentally left it at the field and lost it forever.
If you're interested in this specific bat, feel free to learn about its current price on Amazon.
How Much Does an Aluminum Bat Cost?
Baseball players typically use an aluminum bat from t-ball all the way through college baseball. Aluminum bats are also very durable so players tend to share aluminum bats more than wood bats, but there are players who are looking to purchase an aluminum bat and are wondering how much an aluminum bat costs.
The cost of an aluminum bat ranges from $30 to $500, with the average price of an aluminum bat between $150 and $250. Youth aluminum bats can be purchased for as little as $30 while aluminum bats made for high school, college, and adult leagues can be purchased for as little as $80.
If we look at the charts above, we can see that youth baseball bats tend to be cheaper on average than baseball bats made for adult baseball leagues. The price difference is due to less material being needed to make youth baseball bats.
Wooden Bats Are Cheaper Than Aluminum Bats
Wooden bats and aluminum bats are made out of different materials so the price differs between the two types of bats. Because of how different these bats are made, players tend to wonder if wooden bats are cheaper than aluminum bats.
In general, wooden bats are cheaper than aluminum bats. The cost of a new wooden bat ranges from $30 to $200 while the cost of a new aluminum bat ranges from $30 to $500.
The cheapest baseball bats are typically lower-quality bats or youth baseball bats. On average, youth baseball bats cost less than baseball bats made for high school baseball leagues and above.
Although wood bats are a cheaper alternative to aluminum bats, wood bats break a lot more often than wood bats. If a player breaks enough wood bats, they may end up spending more on wood bats in the long run.
Youth Baseball Bats Are Cheaper
When looking at the average price of bats we can see that youth baseball bats tend to be cheaper than baseball bats made for high school baseball leagues and above.
The price difference between youth baseball bats and adult baseball bats is mainly due to the amount of material needed to make each bat. Players in youth baseball leagues swing a bat that is both shorter and lighter than the bats for adult baseball players.
The weight requirements for a baseball bat in youth baseball are different than the bat requirements in adult baseball leagues. Some youth baseball leagues allow a -10 drop or a -8 drop, while the bat drop requirements for high school leagues and above are usually a -3 drop.
Used Baseball Bats are a Cheaper Alternative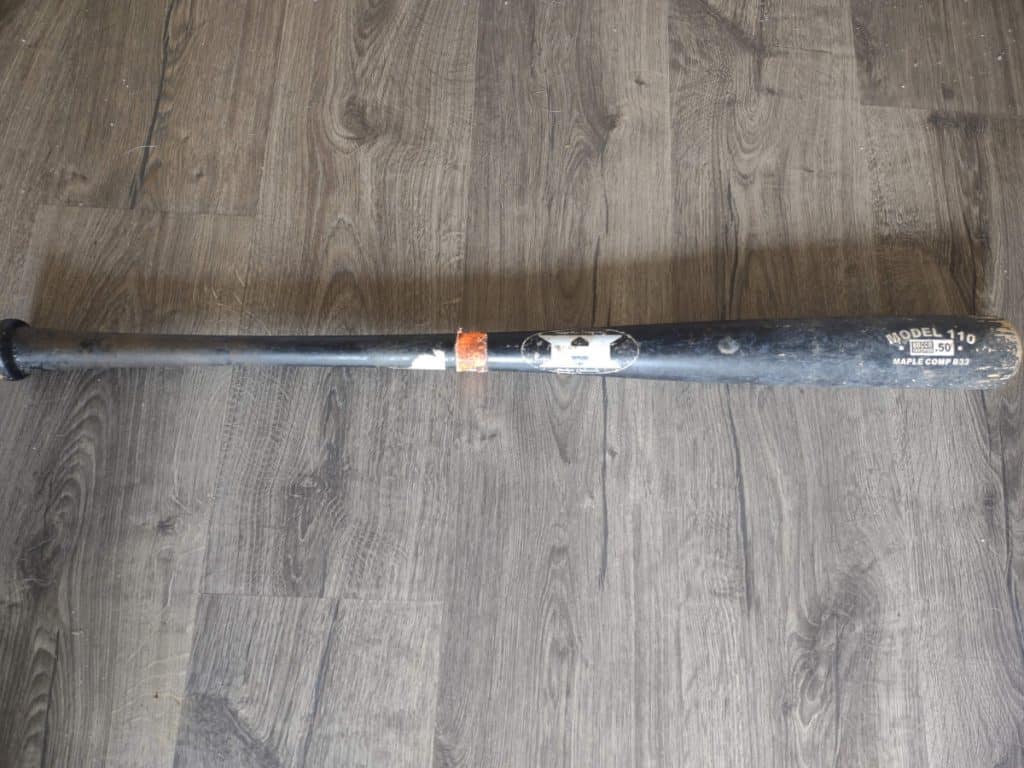 For those players who are looking for a good deal on a baseball bat, purchasing a used baseball bat may be a wonderful alternative. A lot of cities have a local store where players are able to find used equipment that can be purchased for a lot less money than newer equipment.
Baseball bats are also sold at these used sporting equipment stores. As an example, the photo above is a bat I purchased at a local used sporting goods store for $30. This bat may not look brand new, but it has been a reliable bat that still has plenty of pop.
Ensure the Baseball Bat is Legal
Before moving forward with a purchase, a player must make sure the bat they are purchasing is a legal bat for their league.
Each league has its own set of rules around what the bat drop should be, whether the bat should be wood or aluminum, and what can be put on the bat.
Visit my previous article to learn more about what makes a baseball bat illegal.