On occasion, I will do some online window shopping for baseball gear. I'm always curious to see what's available, but as I was looking into some baseball gloves I came across the history of Wilson baseball gloves and it got me wondering – are Wilson gloves made in the USA?
Wilson baseball gloves are not made in the USA. Wilson designs their gloves at their headquarters in Chicago, IL, but they manufacture their gloves in Vietnam. Wilson baseball gloves are only sold in the USA.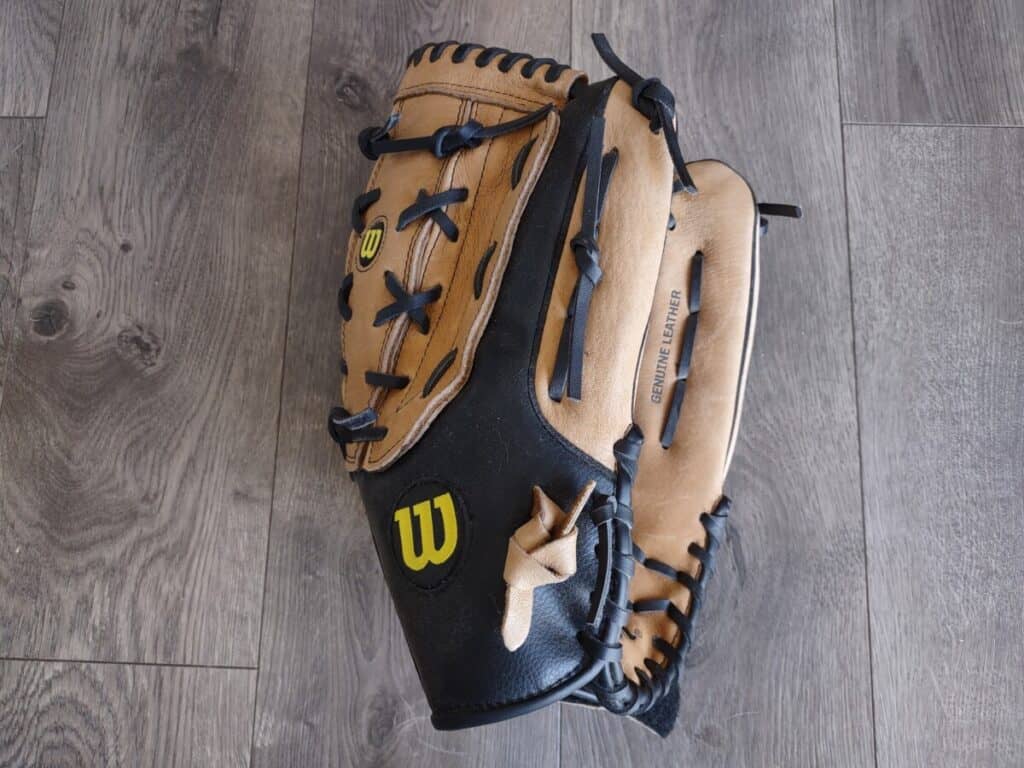 I got quite frustrated as I was searching online for where Wilson makes baseball gloves. A vast majority of websites were either saying Wilson makes their gloves in Chicago or they were saying "it depends on the glove". So instead of reading what those websites said, I simply emailed Wilson and asked them.
Where are Wilson Baseball Gloves Made?
Wilson baseball gloves are manufactured in Vietnam.
To find this answer, I simply emailed Wilson and asked them where they make their gloves. A few hours later, I got the perfect response back – meaning the email was short, to the point, and it directly answered my question. Below is the response I received from Wilson (I removed some personal information from this screenshot).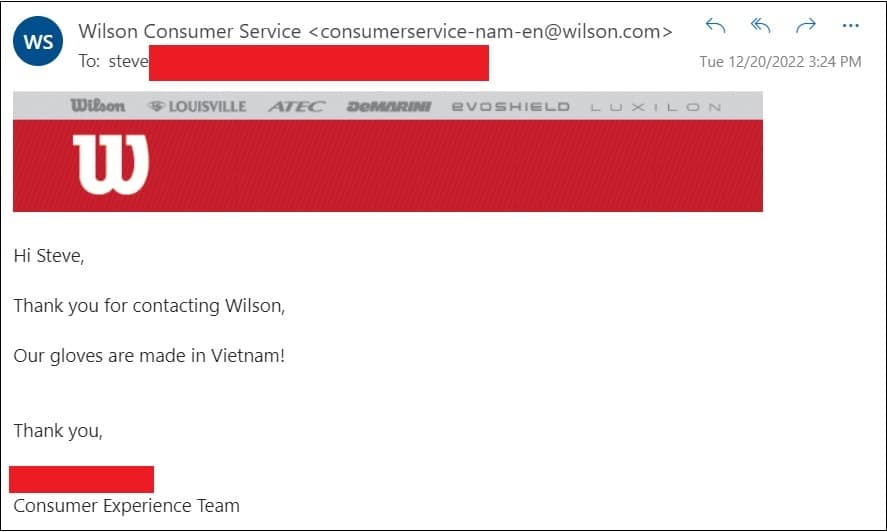 I was quite impressed with Wilson's Consumer Experience Team. They quickly got back to me and directly answered my question. This means someone took the time to actually read and understand my question.
After doing some additional research on the process Wilson goes through to make their glove, I think I've learned their glove-making process at a high level. From what I can tell, here are the steps Wilson goes through to produce and sell their baseball gloves:
Baseball gloves are designed at their headquarters in Chicago, IL
The manufacturing of baseball gloves is done in Vietnam
The gloves are shipped to multiple warehouses located in the USA
Wilson baseball gloves are only sold to the 50 states in the USA
If anyone thinks the above information is wrong, please contact me and let me know so I can update this information.
What Does It Mean for a Baseball Glove to Be Made in the USA?
FTC states that a product can bear the US origin label if "all or virtually all" of the product is made on US soil. It also enforces a policy to guide manufacturers and marketers who want to advertise their products as US-made.
For automobiles, textiles, wool, and fur products, the law is clear-cut. These companies must disclose how much of their products contain content from the U.S. However, a majority of other products aren't required to disclose this information.
It's not mandatory for companies to mark their products as "Made in the USA" or disclose how much of their product is made in the USA.
With that in mind, Wilson isn't bound by the law to label where they manufacture their gloves. Although, Wilson will need to follow the FTC's guidelines if they ever want to market their gloves as being made in the USA.
All things considered, the "Made in the USA" label is earned by strict compliance with government policies under the FTC.
Are There Companies That Make Baseball Gloves in the USA?
Yes! A handful of major baseball glove brands still manufacture in the USA.
Nokona is the only baseball glove company that manufactures entirely in the USA. The company is based in Nocona, Texas, and produces around 40,000 gloves yearly.
Glovesmith manufactures their custom-made gloves only in the USA. They also make their Pro gloves in the USA.
Why Do Companies Manufacture Baseball Gloves Outside the USA?
Several reasons, like cost reduction and feasible mass production, can tempt most baseball companies to manufacture overseas. Plus, offshore manufacturing allows companies to shift their focus to other aspects of their business, like marketing.
Below are detailed explanations of each perk.
Reduce Production Costs
To increase revenue, most business owners look for ways to reduce production costs without sacrificing quality.
It's safe to say that skilled laborers in manufacturing countries cost less than US workers. Plus, raw materials and equipment in such countries are generally cheaper. So using third parties outside the USA to manufacture baseball gloves doesn't cost as much as it does within the USA.
Feasible Scaling Up
With affordable, skilled workers and easy access to manufacturing tools, mass production of baseball mitts isn't an issue.
Increasing product volumes while maintaining low production costs ensures baseball glove companies meet market demand, which is crucial for the company's success.
Focus On Other Business Aspects
Shifting all the manufacturing responsibilities to the factory is another perk that comes with using third parties. That leaves room for the business to focus on other business areas, like marketing and product development.
When companies free up their time to focus on other business aspects, they allow themselves to grow and be more competitive. It's not easy to be successful in the glove-making business!