I have a confession. I always assumed that the only youth baseball league in the United States was Little League. It turns out there's a whole other set of youth teams outside of Little League that people can join. These leagues have curious names, like 9U, 10U, and 11U. There's not a lot of information online about how these leagues work. I thought it would be helpful to gather some info in one place for people who are asking, what is 11U baseball?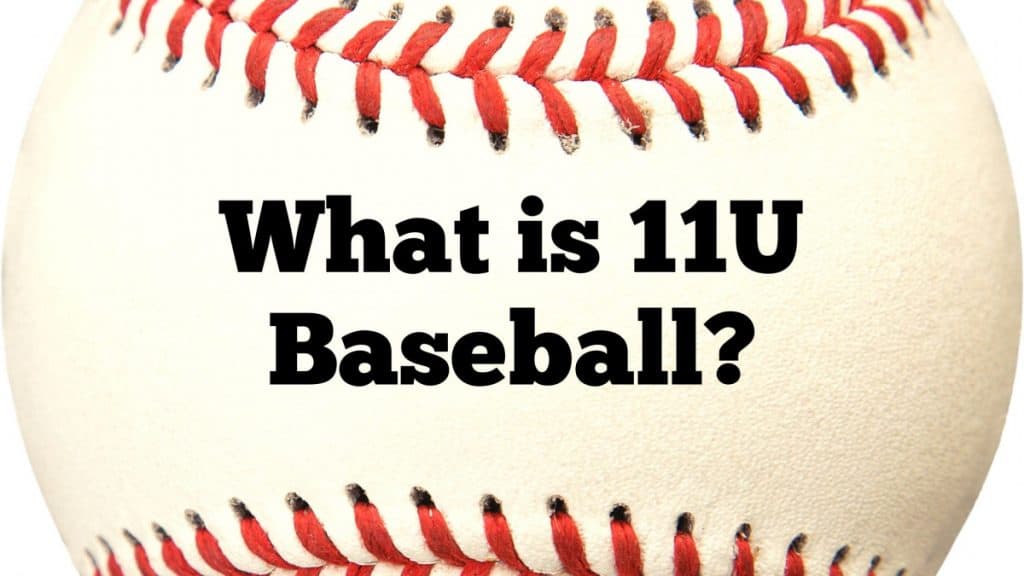 11U baseball is a youth league where kids 11 years old and younger can play baseball. 11U baseball is governed through the United States Specialty Sports Association (USSSA), which is a separate organization from other youth baseball leagues, like Little League.
USSSA sets the league rules for the eligibility of players, how often players can pitch, the distances between bases, and how long a game can last. But it's also possible for each 13u baseball league to set its own rules, just as long as those rules don't override the USSSA.
Age and Eligibility Rules for 11U Baseball
One of the first things parents wonder about when searching for a baseball league is how old players need to be in order to participate. At first glance it sounds pretty straightforward – 11u baseball is for players who are 11 years old. But because all players have different dates of birth and some players might turn 12 while the season is in play, USSSA has some eligibility rules around what makes a player eligible for an 11U team. What age group is 11U?
11U baseball can be played by any player who is 11 years old, regardless of what grade they are in. If players turn 12 prior to May 1st, they are only eligible to play if they are in the 5th grade. Players who turn 13 before August 1st are not eligible for 11u baseball, regardless of their grade.
So if a player is either older or younger than 11, their eligibility for 11U baseball becomes more restricted. The general thinking is that it's effective to keep all youth players on a team within the same one-year age increment. But some exceptions can be made.
This means that it's possible for a 12-year-old player to play in 11U baseball. But they will only be eligible if they are in the 5th grade and they turned 12 before May 1st of the current year.
So what about players who are under 11 years old? What's the youngest a player can be and still be eligible for an 11U baseball team?
According to the USSSA rules, players are allowed to "play up" two divisions. So any player who is eligible to play 9U baseball is eligible to play 11U baseball. So as a general rule, the youngest player on an 11U baseball team can be 9 years old.
A longtime director from the USSSA has said that, as long as you don't roster a player that exceeds your age division, you may have players on the team that are younger than the age division, up to two years. This stance may differ from team to team, so it's a good idea to check with your local 11U league about their age requirements.
Age eligibility is incredibly important for youth leagues like 11U. The penalties for age or grade violations are pretty steep. If a player is found to be at an illegal age during or after a league or tournament game, the offending team will automatically lose the game and/or be ejected from the tournament, while forfeiting all awards, points, and sponsors' travel money.
Base Distances and Pitching Distances for 11U Baseball
Most of the players in 11U baseball are 11 years old, which means players are still learning how far they can throw and how fast they can run. Because of this, the distance between bases and the pitching distance is shorter than you would see in a high school, college, or pro baseball game.
How far are the bases in 11U baseball? In 11U baseball, bases are 70 feet apart. This is different from Little League distances for the same age range, which usually has the bases 60 feet apart for 11-year-olds.
What is the pitching distance for 11U baseball? In 11U baseball, the distance from the pitcher's mound to home plate is 50 feet. This distance differs from Little League for the same age range, which usually has the pitching distance at 46 feet.
While the base distance and pitching distance are close when comparing 11-year-olds in Little League to 11U baseball, 11U baseball typically uses longer distances.
11U Baseball Games Are 6 Innings or 1 Hour and 40 Minutes
While a professional baseball game lasts about 9 innings and 3 hours, youth leagues spend less time on the field. How long is an 11U baseball game?
Most 11U baseball games last 6 innings or approximately 1 hour and 40 minutes, whichever comes first. It's possible for an 11U baseball game to stretch past 1 hour and 40 minutes. But a new inning is not allowed to start after 1 hour and 40 minutes have been played.
For an 11U baseball game to end by the mercy rule, one team must be leading by 15 runs after 3 innings or leading by 8 runs after 4 innings.
For a game to be marked as completed due to weather, 3 innings must have been played. If the home team was winning after two and a half innings and the game is called due to weather, the home team will be declared the winner. This works similarly to how a home team does not have to bat in the bottom of the last inning if they are winning.
Learn more about the 9 reasons why baseball isn't played in the rain.
11U Baseball Rules on Rest Days for Pitchers
Injuries are a regular issue for pitchers who spend a lot of time on the mound. A common occurrence in youth baseball is a UCL injury that's sometimes known as "Little League Elbow". This is because young arms with weaker supporting muscles are especially vulnerable to impairments from repetitive motion. To help prevent these types of injuries, USSSA has rules in place for how often a pitcher can pitch and how many days of rest they need before they can pitch again. What are the USSSA pitching rules for 11U baseball?
For 11U baseball, pitchers are allowed to pitch the next day if they threw 3 or fewer innings. If an 11U pitcher throws more than 3 innings, they need one full day of rest before they can pitch again. In addition, an 11U pitcher is only allowed to throw a maximum of 8 innings in a 3-day window.
If a pitcher ends up pitching for 8 innings in that 3-day window, they need one full day of rest before they can pitch again.
11U Players Can Steal Once the Pitch Crosses Home Plate
An exciting play for a youth ballplayer is when they get to steal, but stealing in 11U baseball has rules that you won't find in high school, college, or the pros. When can you steal in 11U baseball?
In 11U baseball, players are able to steal if their specific league allows stolen bases. When an 11U league allows stolen bases, which is most 11U leagues, players are only allowed to steal once the pitch crosses home plate.
Along with leading-off, the rules around stolen bases vary from league to league. It's important to check the rulebook for the league to determine whether or not 11U players are allowed to steal bases, but a majority of 11U baseball leagues allow players to steal once the pitch crosses home plate.
Also, if the 11U baseball league is a coach-pitch or a machine-pitch league, stolen bases are never allowed.
Can 11U Players Wear Metal Cleats?
For youth baseball, there are more restrictions on how the game can be played, compared to the leagues for older players. This includes what equipment can actually be used on the field. Is there any equipment not permitted for 11U baseball?
In the official USSSA rules, 11U baseball players cannot wear traditional metal baseball spikes. They have to wear non-metal cleats. Spikes are only permitted for age divisions 13U and older.
11U Baseball is Different Than Little League
What a lot of people don't realize, is that 11U baseball is actually different from the divisions in Little League. There are a lot of different youth baseball leagues out there and it's important to understand which one you want to play in.
In Little League, players who are 11 years old can play in either the "Minor League" division (ages 5-11) or the "Major Division" (ages 9-12). If an 11-year-old player wants to play on an 11U baseball team, they'll need to go through a team that is associated with the United States Specialty Sports Association (USSSA).
Little League allows for individual players to sign-up to play on a team, but USSSA only allows teams to register – not individuals. Both organizations have baseball leagues spread out all over the United States and both organizations allow parents to contact the baseball directors on their website. If a parent wants to register their 11-year-old for an 11U baseball team, they can always reach out to the baseball director in their area to inquire about baseball teams that are in need of players.